Our Supporters
Kid Pan Alley's mission is supported by a wide variety of foundations, state and federal grants and hundreds of individual donors. Such support is a testament to the power of the program and we, at Kid Pan Alley, thank all of our supporters for seeing, valuing and helping to bring Kid Pan Alley to children nationwide.
All Kid Pan Alley programs are subsidized in order to make them available to the broadest audience possible.
Without the support we receive, this would not be possible.
Our major supporters include:  The National Endowment for the Arts, Shenandoah National Park Trust, US Bank, The Argyll Foundation, The ASCAP Foundation Irving Caesar Fund, Bama Works Fund of Dave Matthews Band, Caldwell Foundation,The William & Mary Greve Foundation, Inc.,  The Jacquemin Family Foundation, Les Paul Foundation, Mountain Laurel Foundation, Rappahannock Association for the Arts and Community's Claudia Mitchell Fund, The Richard Lykes Fund, the Miller Fund, and the Kordtlant Fund of the Northern Piedmont Community Foundation, Rose and Jesse Loeb Foundation, The Russell Family Foundation, The Virginia Commission for the Arts, the Virginia Museum of Fine Arts, Mellon Arts in Education Program, and many individual donors.
Did you know that just $30 will sponsor a child's participation in an entire week of workshops and concerts? Become a Kid Pan Alley supporter and help kids find their voice.
Thanks to our major donors
  
Kid Pan Alley on new Julie Andrews Netflix Series
Julie Andrews has a new Netflix series, Julie's Greenroom, and Kid Pan Alley is on Episode 6.  It's a series about the creative arts and children produced by the Jim Henson Company, the creators of Sesame Street.  Our episode features Sara Bareilles.  We were filmed at a summer camp we did last summer in Amherst, VA called Summer Stage.  All the episodes will be released on March 17th.
Bouncin'–the new Kid Pan Alley Musical
We have a new musical featuring mostly Kid Pan Alley songs. Paul Reisler, our founder and Artistic Director, wrote the additional songs and the script.  It's a moving story of friendship that dissolves and comes back together in crisis.  George Mason University presented a staged reading in December and we're currently working on booking it for full performances.  Here are some excerpts from the December performance.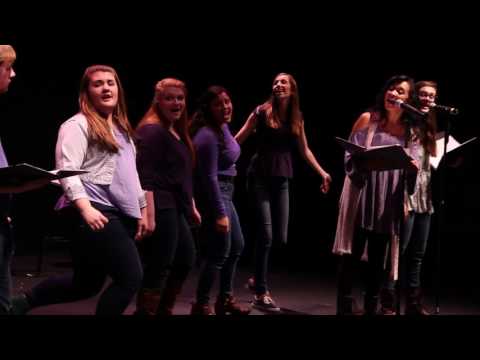 "There is nothing more helpful to a developing human than to learn how to express feelings in sound. Kid Pan Alley is a fabulous way of bringing young people into the loop of reflective behavior, of constructive action. Power to the organizers of this remarkable initiative."
donate
click to listen