Donate
HELP CHILDREN FIND THEIR VOICE
Kid Pan Alley is a nonprofit arts education organization (FEIN 20-1609731). We raise money each year to offer residencies at a reduced price to schools. If you'd like to help Kid Pan Alley continue encouraging creativity in learning, building self-esteem, and teaching teamwork through its songwriting workshops and character development assemblies, please make a donation. If you'd like to direct your donation to support a specific school or program, please note it in the comments field on the PayPal donation page.
Your gift will help sponsor:
$25 One Child for a five day residency
$250 Ten Children for a five day residency
$600 Sponsor a class
$1,300 Full day of character development assembly program
$6,500 One Five day residency for a school (200 children)
All contributions are fully tax deductible.
Kid Pan Alley is supported by The ASCAP Foundation Irving Caesar Fund, Bama Works Fund in the Charlottesville Area Community Foundation, Caldwell Foundation, Crutchfield, The William & Mary Greve Foundation, Inc., the Miller Fund of the Northern Piedmont Community Foundation, Mountain Laurel Foundation, NAMM Foundation, Northern Piedmont Community Foundation, Lykes Fund, Claudia Mitchell Fund, the Virginia Commission for the Arts and the National Endowment for the Arts, the Virginia Museum of Fine Arts – Mellon Arts in Education Program, Les Paul Foundation, Jacquemin Family Foundation, and many schools, parent/teacher organizations, and individual donors.
Give Local Piedmont • It was an amazing day. Thanks to 119 donors, matching gifts, bonuses, and 2nd prize for most donors, we raised over $38,000 which will provide a week of Kid Pan Alley for over 1,500 children. Thank you. You have changed the world for these children.
Kid Pan Alley on new Julie Andrews Netflix Series
Julie Andrews has a new Netflix series, Julie's Greenroom, and Kid Pan Alley is on Episode 6.  It's a series about the creative arts and children produced by the Jim Henson Company, the creators of Sesame Street.  Our episode features Sara Bareilles.  We were filmed at a summer camp we did last summer in Amherst, VA called Summer Stage.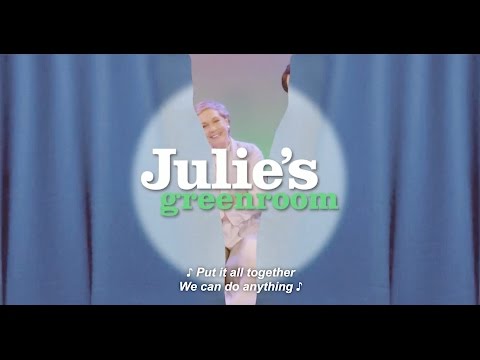 Bouncin'–the new Kid Pan Alley Musical
We have a new musical featuring mostly Kid Pan Alley songs. Paul Reisler, our founder and Artistic Director, wrote the additional songs and the script.  It's a moving story of friendship that dissolves and comes back together in crisis.  George Mason University presented a staged reading in December and we're currently working on booking it for full performances.  Here are some excerpts from the December performance
"We are always looking for innovative ways to make the works of art in the collection feel more relevant. Kid Pan Alley's The Music Of Art program does just that. The songwriting process around these works opens up a world of visual literacy, curiosity, creativity, collaboration and confidence for the students, helping them develop personal and meaningful connections with the works and with each other. The results are pure magic"
donate
click to listen