Board of Directors
Marianne Clyde, President – is a highly respected Licensed Marriage and Family Therapist in Warrenton, Virginia. She has travelled around the world to bring healing from stress and trauma to residents of third world countries. She has authored many articles on family, relationship and other mental health issues. Her most recent book is Peaceful Parenting:10 Essential Principles." Her current media project is a MommyZen parenting blog at www.mommyzen.podbean.com. She has appeared as a guest of various TV and radio shows speaking on a variety of social issues ranging from school shootings to having a happy marriage. She is an also an ordained minister
Douglas Gernert, Vice President,  – serves as Managing Director of Capital Investment of Village Ventures. He serves as President and Chief Executive Officer of Totes Isotoner Corporation based in Cincinnati, Ohio. He has served as Senior Vice President of Robertson Ceco Corporation and as Vice President of HMK Enterprises, Inc. He founded Counterpoint Management in 1991. He also co-founded Azure Records. Mr. Gernert holds an MBA degree from the Harvard Business School and a Bachelor of Arts degree, cum laude, in Political Economics from Williams College.
Jack Porter, CPA,  Treasurer  – is currently the Chief Financial Officer of The Châteauville Foundation and The Castleton Festival, which were founded by Maestro Lorin Maazel. The Foundation is a non-profit organization dedicated to the advancement of aspiring music and opera stars and the performance of classical and operatic music productions. Prior to assuming his current responsibilities, he was a managing director of specialized investment banking firms that facilitated mergers and acquisitions and consulted with Native American tribal corporations and governments, interested in pursuing commercial joint venture opportunities and the recovery and development of their energy resources.
Board Members at Large
Tim Ayers is the President of Ayers Associates, a public relations firm whose client include Microsoft, Bechtel, Pew Trusts Clean Energy Program and many others.  He served as president of the Public Relations Society of America, National Capital Chapter.  Previously he was Vice President for Communications of the Cellular Telecommunications and Internet Association.  He also served the Governor of Maryland as Director of Communications and then as the State's first Director of Marketing.
Mitchell Galin, Strategic Planning Committee –  is a veteran filmmaker who has developed and/or overseen the production of ten features, over thirty television productions, four documentaries and two theatre productions. In 2007 after spending two decades building two entertainment companies, Galin formed the Nashville-based film company, Epiphany Productions LLC. He is best known for a number of projects he produced in partnership with Stephen King, including Pet Semetary and The Stand, as well as his work in the adaptation of works by John Cheever, Dominick Dunne, Frank Herbert and others. His work has garnered six Emmys and the prestigious Christopher Award. Galin has worked with Oscar winning stars that include Katharine Hepburn, James Cagney, Peter O'Toole, Jodie Foster, James Earl Jones, William Hurt, Kathy Bates, George Scott, Maggie Smith, George Kennedy and William Hicke.
John Jacquemin, Finance Committee  – is President and Founder of Mooring Financial Corporation, a private investment firm that specializes in the management of alternative assets for high net worth individuals and institutional investors. He currently serves on the Board of Directors of Penn National Gaming Inc., a NASDAQ-listed company headquartered in Reading, Pennsylvania, George Mason University, and the Castleton Festival.. He is the President of The Jacquemin Family Foundation, which he established in 1997 to focus grants on organizations that provide educational and artistic opportunities for under-served children
Jim Griffin – is Managing Director of OneHouse, dedicated to the future of music and entertainment delivery. In addition to serving as an agent for constructive change in media and technology, he is an author, serving as a columnist for magazines, and is on the boards of several companies and associations.
He started and ran the technology department at Geffen Records. Jim started and ran Cherry Lane Digital for Cherry Lane Music, one of the most respected publishing companies in the US. Prior to Geffen he was an International Representative for The Newspaper Guild in Washington, D.C.
Jim also serves as an expert witness in digital entertainment, CNN Money called him, "one of the sharpest minds in digital music," and the Los Angeles Times called him an "Entertainment technology visionary."
Jennifer Jacobsen is Vice President for Industry and Government Relations for Sony Music Entertainment. Previously, she worked as Vice President of Domestic Public Policy at AOL. She is a graduate of University of Virginia Law School and has worked as an entertainment law attorney at Akin-Gump. In addition, she graduated from the Leadership Music program which is designed to create a forum for established music community leaders to identify and explore issues currently affecting the music industry.
Doug Himberger has had a career that has ranged from teaching, to the Government, to both small and very large businesses blending technology expertise with business acumen in these varied settings. Currently, he is the President of Himberger Consulting and is teaching Physics at Piedmont Virginia Community College.  He has served as the Director and Senior Vice President for Security, Energy and the Environment for NORC at the University of Chicago as well as a Partner and Vice President at Booz Allen Hamilton.  He holds a Ph.D. in Physics from Georgetown University. In addition to his work with Kid Pan Alley, he is on the Board of Directors of the Safe America Foundation and the Center for Excellence in Education.
Gail Montplaisir – is the founder and President of Taurus Development Group and Taurus Renovation & Construction, full service development, construction and management companies. As part of the Taurus's outreach commitment, Gail has also expanded the Taurus companies into Work-Force and energy efficiency training both for market-rate and green-collar job programs. Gail serves as the Chair of the Board of Directors Peace X Peace (www.peacexpeace.org) as well as on the Board of Advisors of DC Greenworks (www.dcgreenworks.org).
Paul Reisler, Founder/Artistic Director  – is one of the foremost songwriting teachers for both adults and children in the country and has personally developed the Kid Pan Alley process. Since 1975, he has toured throughout North America and Asia as the leader of the music group Trapezoid as well as Paul Reisler & A Thousand Questions featuring Howard Levy, and as a solo performer. He has appeared in well over 3,000 concerts. He has been involved in over 35 recording projects in various roles as a musician, engineer, producer and composer.
Cheryl Toth – (ex-officio) recently joined Kid Pan Alley as Executive Director in May after retiring from an 8-year appointment as an elementary school principal for Fairfax County Public Schools. She holds a Bachelors of Music Education from James Madison University, a Master in Music Education and Supervisory Endorsement from George Mason University. She began her career as an elementary music teacher. Prior to serving as an elementary school principal, she served two years in the Fine Arts Office supervising the elementary music program for the Fairfax County Public School district.
Ysaye M. Barnwell, Ph.D., Trustee Emeritus – Songwriter, educator, composer, and former leader of the acclaimed Afro-American a capella vocal ensemble, Sweet Honey in the Rock – Washington DC
We just finished our last 2 summer camps in Virginia and Paul is away at the Virginia Center for the Creative Arts working on a 50-minute version of our musical, Bouncin' that we can tour to schools.  The full 90 minute version was performed in December at George Mason University.
August 14-17 • Lyons, CO • Rocky Mountain Songschool with Paul Reisler, Steve Seskin, Pat Pattison, Bonnie Hayes, Mary Gauthier and others. SOLD OUT
Kid Pan Alley on new Julie Andrews Netflix Series
Julie Andrews has a new Netflix series, Julie's Greenroom, and Kid Pan Alley is on Episode 6.  It's a series about the creative arts and children produced by the Jim Henson Company, the creators of Sesame Street.  Our episode features Sara Bareilles.  We were filmed at a summer camp we did last summer in Amherst, VA called Summer Stage.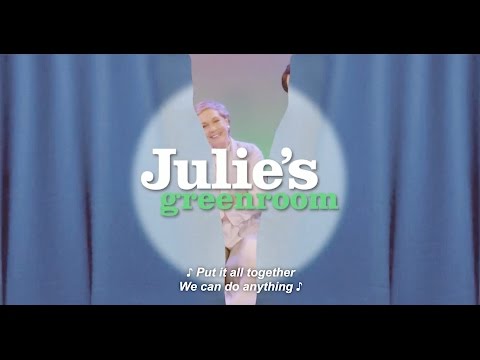 Bouncin'–the new Kid Pan Alley Musical
We have a new musical featuring mostly Kid Pan Alley songs. Paul Reisler, our founder and Artistic Director, wrote the additional songs and the script.  It's a moving story of friendship that dissolves and comes back together in crisis.  George Mason University presented a staged reading in December and we're currently working on booking it for full performances.  Here are some excerpts from the December performance
"We are always looking for innovative ways to make the works of art in the collection feel more relevant. Kid Pan Alley's The Music Of Art program does just that. The songwriting process around these works opens up a world of visual literacy, curiosity, creativity, collaboration and confidence for the students, helping them develop personal and meaningful connections with the works and with each other. The results are pure magic"
donate
click to listen