Welcome to Kid Pan Alley
Imagine if you were a child writing a song in your classroom with a professional songwriter. Then suppose that your song was recorded by a world-class recording artist like Delbert McClinton, Cracker, Sissy Spacek, Amy Grant, Kix Brooks, Suzy Bogguss, Corey Harris, or Raul Malo. You'd be changed forever. You'd have learned about teamwork, the value of everyone's ideas, embracing diversity and collaboration through the group songwriting process. You might start writing songs to express your feelings rather than striking out in anger. You'd feel really listened to and proud of what you had done. And just imagine that this was the most fun you ever had in school. Well, this is what Kid Pan Alley is doing in schools throughout the country—inspiring kids use their imaginations—to be creators of their own music, not just consumers of popular culture. We've written over 2,700 songs with more than 40,000 children and we've got to say kids make the greatest co-writers. Come on inside and hear some of their creations. And, if you are so inclined, help us bring Kid Pan Alley to your community.
Give Local Piedmont was a resounding success for Kid Pan Alley. Thanks to our donors from around the country, a matching gift from 2 board members, and 2nd prize for most donors, we raised more than $38,000 in one day!
But what that really means is that we will be able to give a week of Kid Pan Alley to 1,500 more children and help them discover that they can be creators of their own music. Thank you!
Here is a great introduction to what we do at Kid Pan Alley narrated by Ysaye Barnwell of Sweet Honey in the Rock with Kathy Mattea and Sharon Lawrence
Kid Pan Alley on new Julie Andrews Netflix Series
Julie Andrews has a new Netflix series, Julie's Greenroom, and Kid Pan Alley is on Episode 6. It's a series about the creative arts and children produced by the Jim Henson Company, the creators of Sesame Street. Our episode features Sara Bareilles. We were filmed at a summer camp we did last summer in Amherst, VA called Summer Stage. All the episodes will be released on March 17th.
Bouncin'--the new Kid Pan Alley Musical
We have a new musical featuring mostly Kid Pan Alley songs. Paul Reisler, our founder and Artistic Director, wrote the additional songs and the script. It's a moving story of friendship that dissolves and comes back together in crisis. George Mason University presented a staged reading in December and we're currently working on booking it for full performances. Here are some excerpts from the December performance.
Kid Pan Alley receives National Endowment for the Arts Grant
In celebration of the 100th anniversary of the National Park Service, the National Endowment for the Arts has awarded Kid Pan Alley a $10,000 grant for a collaborative songwriting project with the Shenandoah National Park, the Shenandoah Park Trust, and the Virginia Museum of Fine Arts. This project is designed to bring children to the Park to experience its beauty, majesty, and importance to our natural and national history and to write songs inspired by that experience.
May 8, 2016 • Thanks to the generosity of our friends, Kid Pan Alley raised $26,442 on Give Local Piedmont Day. We came in 5th out of over 160 organizations and were 1st in organizations with budgets of less than $250,000! We thank all of you for making this day such a success!
July 15, 2016 • Our artistic director, Paul Reisler, has been awarded one of eight 2-year fellowships from the Jubilation Foundation to help support his work. The Jubilation Foundation helps individuals with exceptional talent for helping young people feel fully alive through rhythm as expressed in music and dance.
June 1, 2016 • Paul Reisler been awarded a fellowship at the Virginia Center for the Creative Arts in Amherst. The VCCA is an artist colony that provides uninterrupted space for artists to do their creative work. Paul will be working on the Kid Pan Alley musical as well as some instrumental compositions.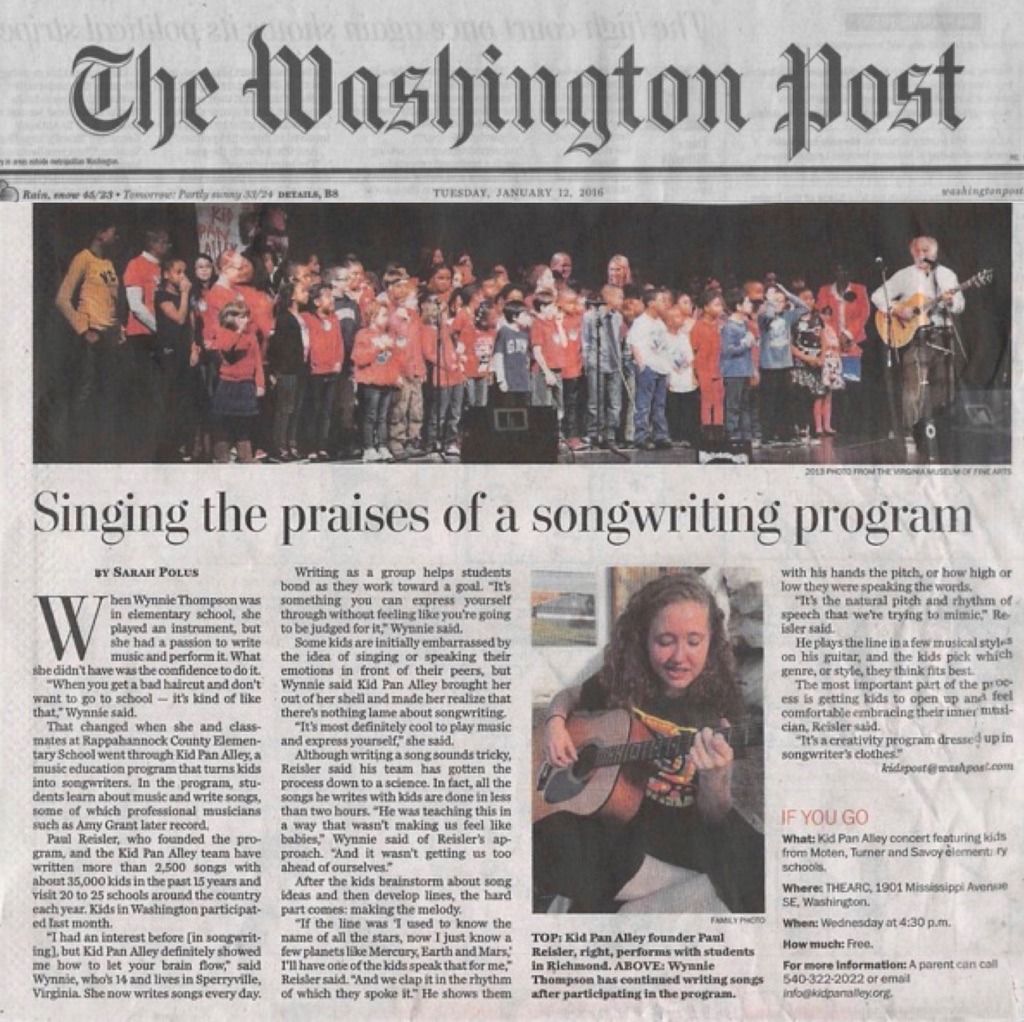 Listen to a different story on WCVE-FM 88.9 on Kid Pan Alley's Music of Art Program with the Virginia Museum of Fine Arts
Here's a feature from WETA-PBS on the Kid Pan Alley National Symphony collaboration
Morning Edition on NPR: host Renee Montagne interviews Paul Reisler, Kid Pan Alley founder and Artistic Director.
Kid Pan Alley Alley on Channel 7 in Covington, VA
A story from
ABC News 10
in Stockton, CA about our project with the Stockton Symphony. We had 7 concerts with the full orchestra from Jan 17-22.
Kid Pan Alley performs with National Symphony--NBC, Ch. 4 News
WMRA-FM, the NPR station in Harrisonburg (90.7 fm), interviewed Kid Pan Alley's Artistic Director, Paul Reisler and songwriting assistant Heather Mae. Listen in as Tom Graham, host of Virginia Insights, shares the Kid Pan Alley story with listeners.

West Hawai'i Today: Kid Pan Alley was the lead story on the front page in the largest daily newspaper on the Big Island. Kohala Students Make Music With Pros:

Kid Pan Alley at Kilmer Center, Vienna, VA
This great story about the writing of Kilmer Center's Alma Mater song. Kilmer Center is a school for children who are seriously impacted with autism. Sun Gazette:
Voice of America on Kid Pan Alley's songwriter in residence program at Orr Elementary School in Washington, DC.

Kid Pan Alley Schedule Fall, 2017
Aug 28-31 • Bristol, VA • Birthplace of Country Music Museum residency Sept 15 • Bristol, VA • Virginia High School concert Sept 16 • Bristol, VA • Rhythm and Roots Festival • Kid Pan Alley Band concert Sept 18-20 • Charlottesville, VA • Cale Elementary residency Sept 26 • Charlottesville, VA • Cale Elementary residency 6:30 pm Oct 2-6 • Powhatan, VA • Pocahontas Elementary residency with Virginia Museum of Fine Arts Oct 6 • Powhatan, VA • Pocahontas Elementary concert
Download songs from past residencies!



Summer Stage-2017

Altavista YMCA

Hunters Woods with Kindergarten and Pre-K

Highland School


Springfield Elementary
Pocahontas Elementary
A Kid Pan Alley Valentine's Day Song
Patrick Henry School of Science and Arts
Savoy Elementary, Washington, DC with National Symphony trio
Songs from Luray Elementary
A Halloween Song for you
Two songs from our Shenandoah National Park residencies with the 4th and 5th grade at Westwood Hills Elementary
Two songs from our Rappahannock residency with Shenandoah National Park residency
A song from a summer camp we did at Summer Stage in Amherst, VA
Two songs from our Shenandoah National Park project with Luray Elementary.
Two wonderful songs from Cedar Point Elementary in Manassas
Our work with developmentally disabled non-verbal children at Ridge Ruxton school.
A great song about New York from Orange Elementary
An Easter song from our recent residency at Central Elementary
A beautiful song from our recent residency in Hawai'i
Kid Pan Alley recently performed songs we wrote at Chris Yung Elementary with the Manassas Symphony at the Hylton Center. Watch the performances here.
Virginia Museum of Fine Arts and Patrick Henry School of Arts and Sciences. A song inspired by a painting of Marion Anderson about her historic concert on the steps of the Lincoln Memorial when she wasn't allowed to perform at Constitution Hall because of her race.
We've started our Wonder & Reflection--Songs of the Shenandoah National Park project where we bring the kids to the Park and they write songs about the experience.
Just to give you a little idea of what we're seeing, Cheryl Toth, our Executive Director wrote this about a magical experience there last week.
September 9th, 2016
The Bear and the Deer
The title of this email sounds like an Aesop Fable, but in fact, it is a true story. I spent the first half of today with students from Hearthstone School visiting the Shenandoah National Park as part of their residency program next week.
The weather was a breezy 95 degrees with gnats and flies in abundance doing what all gnats and flies do. :) As we moved across the trails into the meadow (Big Meadow) the students found joy in the simple things, caterpillars, spiders, milkweed, golden rod, and soft grasses. They branched off from each other with a hand held device used to capture and inspect small insects. They danced; laughed, calling out to each other to come and share their discoveries…then something very unusual happened...
Off in the distance, one of the children spotted a bear… "A bear…a bear?…where?…there!…" This was the too familiar sound at such a sighting. But something was different…this bear was sprinting across the meadow…yes, running at full speed…a most unusual sight as most bears I have seen just slumber along, turning over trash cans and raiding hen houses. As we watched in amazement, a whitetail deer darted out from the grasses. Could it be??? Was the bear after the deer?
Park Ranger Mike said that bears do not chase deer. "It is a waste of their energy." But sure enough, we witnessed an adult black bear chase a deer into the woods. I quickly opened my iPhone and tried to capture it in video. I did get a glimpse of the historic chase…but what is priceless are the conversations of the children and the ranger as we all witnessed this amazing event. We were all grateful that the bear did not catch the deer…we were not prepared to witness such a "National Geographic" moment. While this Olympic sprint was a first for us all, the butterflies and caterpillars, spiders and milkweed still captured the imagination of the children today.
Our work with the Shenandoah National Park has been incredibly rewarding, igniting the explorer inside all of us. So in true Aesop style: The moral of this story is…Life will gift you with wonderful experiences, when you are present to receive it! Today, I was present and I got a gift that I will cherish forever.
---------------------------------------------
April 25, 2016
by Paul Reisler, Kid Pan Alley founder and Artistic Director
Writing Songs with Children Who Can't Speak
Last week Kid Pan Alley songwriters Paul Reisler and Sahffi Lynne worked with developmentally disabled children at Ridge Ruxton School in Baltimore. It was an unusual residency—all of the children were profoundly impacted with multiple disabilities. None of them had language.
Writing a song with kids that don't speak is a challenge. It forces us to listen on a much deeper level. These kids have a story to tell, but perhaps, not a way to tell it.
We hoped to capture their hopes and dreams in song. Each of the 5 songs we wrote reflects their ideas and how they see the world. Of course, the question is how to get meaningful, authentic participation in the songwriting process from kids without our normal method of communication--words. Fortunately, we had some previous experience with this having done several other programs like this in the past in special schools in Fairfax County.
Some of the kids had communication devices. They could tap a picture and it would speak the word. A couple could type a bit and their device would say what they had typed. Others could just squeeze your right hand for a "yes" and your left hand for a "no." Some had some basic sign language, and with others you just had to look into their eyes and figure it out.
We partnered each child with normally developing children from one of the other area schools. We worked with those peers on how to interpret what their partners were trying to say. They bonded, they hugged, they developed an empathy unusual in children of that age. It was beautiful to watch.
We worked with pictures. The staff had chosen themes for each class and we made small cards with pictures of words that related to the topics. The topics were friendship, emotions, nature, Romeo and Juliet (yes, the older kids were studying Romeo and Juliet), and graduation.
The children would select cards relating to the topic and we'd get started by writing a section using the words from those cards. There was a yes/no vote for every idea. Gradually, then a verse or chorus took shape. One of the peers would read the first line. We'd clap the rhythm. The peers would hold their friends' hands and clap with them.
Then another would read the line again and with our hands we'd show them the pitches of the line they had spoken by moving our hands up and down in the air. When we speak, we are really singing to each other—we speak in rhythm and on pitch. In song, we just amplify the arc of the spoken melody—perhaps going up a bit higher or lower, or stretching out a rhythm.
Finally, we'd ask someone to sing it. Sometimes the melody came perfectly formed from one of the peers. Other times, one of the autistic children would make a sound—a cry of excitement, a laugh, and we'd try to use that in the melody.
Line by line, we'd write more verses, a chorus and even sometimes a bridge until the song was done. The Romeo and Juliet song was particularly challenging. You can't just say they met, fell in love, and died. Shakespeare wrote a very complex story and characters like Montagues and Capulets just don't sing very well. Eight verses later, we were done.
At schools like this, they start at age 4 and graduate in their early twenties. Two of them were graduating this year. We wrote their song, "I Know You Must Be Sad to Leave," with the Sign Language Chorus.
Listen to the song and see a video of the week.
It's really moving.
At the end of the week we had two concerts—an afternoon one for all 200 students at the school and an evening performance for their parents. We wanted them to have meaningful participation in the performance. We programmed arpeggios into my Ipad and as they touched different places on the screen, Sahffi on French Horn and I would improvise with them. They introduced the songs with their communication devices and they all came on stage for our "Best Friends" song at the end.
I'd look over at the kids and see the joy and excitement on their faces. I'd look at their parents in the audience, many of whom were weeping, and I'd think just how lucky I am to be able to do this work—to give voice to those who don't have one.
The work we do in schools across the country, especially in situations where the challenges are so great, is a reflection of the creative and artistic spirit of Rappahannock. Kid Pan Alley began right here at Rappahannock Elementary 16 years ago. We hope you will join us on Tuesday, May 3rd for the annual Give Local Piedmont fundraising event. This day of giving recognizes all of the organizations that make a difference in our community.
Go directly to Kid Pan Alley's page
.
March 15, 2015 by Cheryl Toth, Kid Pan Alley Executive Director
Impact
How can one day or one week of an event or interaction with an artist make an impact? This is a question and often a criticism of many arts programs today. In attempts to address this to funders and Arts Commissions, I took some time to reflect on the question.
What can make an immediate lasting impact and how does it happen?
We do not live in art galleries, yet when we visit a museum, our visual perception and emotional connection to art leaves immediate and lasting impressions. The first time I went to the Hirshhorn museum I saw the Calder Mobile hanging between the levels, I stopped dead in my tracks to watch it move and the awe of seeing one section influence and impact the movement of the other. The half step interval played in the lower octave of the keyboard reminds me of the imminent shark attack. The first time I watch the Beatles on the Ed Sullivan Show, the imprint was immediate. So why is it so hard to acknowledge and accept that impact?
Educators, and I happen to be one of them, are trained to look for data in numbers that tell us something has or has not happened. Standards' based testing is a great example of this. If a child passes the test, we have data saying they know the content. If they fail, we use data to say the child doesn't know the content. Many teachers would argue that data is not the only indicator of successful learning.
Thus the question about impact or imprinting comes to mind. Can we learn something with only one interaction whether it is with an object, a person or an experience? I would argue that who we are and what we determine to be our values are significantly impacted and influenced by "one-time", "once heard" interactions.
In reflection, I realized that I attached emotions to many experiences. "I loved that, I want to do it again." "That scared me to death, I'll never do that again." I laugh thinking about the phrase, "Monkey see, monkey do." Many of our behaviors are initiated by one-time interactions, influenced by people we know and some who are strangers. If there is a repeat of those interactions, then the behavior is reinforced. That doesn't diminish the "first time" effect. The first time I rode a horse, the first time I attended a funeral, the first time I heard Martin Luther King speak.
Our lives are embedded with first times. So, why do we say that you cannot learn a skill or be influenced by the act of creating a song if it only happens once? There are many experiences in our lives that occur one time, by design or by chance In my reflection, I can list one time events from my childhood to now. Can they be measured? No…they only happened once. Did they change my life? Some did and others molded and influenced my perspective. The most meaningful one time events led me to seek out more experiences, thus determining my career, my passions and my convictions.
This past week, a family came up to me after a Kid Pan Alley concert and shared how delighted they were with the program and how amazed they were that their daughter came home singing everyday. By their side was their daughter, smiling and proud. How do you measure that? Will that experience shaper her life or change her future?
Will she compose her own song or find artistic ways of expression later in life? If we had a crystal ball, we might be able to see the future and answer those questions. But until that time, we continue to teach creativity in hopes that it will imprint on the generations of children who will be the gatekeepers of the future.
July 20, 2014 Maestro Lorin Maazel died last week. He was the preeminent American conductor having conducted every major orchestra in the world. He'd been music director for many orchestras including New York Philharmonic, Pittsburgh Symphony, Munich Symphony and others.

He was one of our neighbors and I have heard some of the best music of my life from orchestras conducted by him at his Castleton Festival and at the NY Philharmonic. Kid Pan Alley exists thanks to the support of the Maestro and his wife, Dietlinde. They were one of the major supporters of our first album. Here's a poem I wrote to mark his passing.

In Memory – Maestro of All Maestros
the riderless podium
the empty pot
the open score
brilliantly lit in the darkness
but minus the maestro
the notes were but fly specks
upon the page
they were not the music

we stood
we clapped
a thunderous tribute
to genius
it would have gone on
for hours
had they not turned on the lights
had they not started to play
as best they could
without him
but not even hours
not even days
nor months, nor years of applause
would not have fully acknowledged
the gift he gave to music
to us

i watched him intently
so many, many times
from the first concert in the theatre
where Maazel and Bronfman and Frankel
played the Tchaikovsky Am
though virtually every concert in castleton
to london for 1984 and to New York for his final mahler 8th's
i watched the subtle minuet the tip of his baton (was it the one mahler used?)
the dance of his bow upon his strad
i watched him conduct
with his eyebrows
and his glance
and the glare
of an unapproving eye
but it was not the gesture it was not movement, nor the motion but his will
for his will was enough
to lead a symphony of a thousand
or a quartet of eight
and it will be enough
to lead all the music
to come
in this festival
we have all come to love
thank you, thank you, thank you
maestro of all maestros
thank you

Paul Reisler July 19, 2014


December 21, 2013.
REFLECTIONS...
Dear Friends, Like most organizations, we usually spend a bit of time at year-end reflecting on our work over the past year. This generally means compiling and evaluating statistics from last year - how many songs we wrote with how many children, the attendance for our concerts, etc. KPA did a lot this last year, including a 2-week residency in Rappahannock, and projects with the Corcoran Gallery of Art and the Virginia Museum of Fine Arts where art was the inspiration for the songs. But this year, we found ourselves... Click Here

One Little Song Can Change the World
Our new album just came out!! It's collection of songs about respect—respect for the each other, the environment, the community and oneself—written from the unique perspective and world-view of children with Kid Pan Alley songwriters. These are powerful songs about how we should treat each other performed by the Grammy nominated Kid Pan Alley Band along with some world-class guest vocalists. These songs speak of the dreams and aspirations of the children about how they want their world to be. Let's help them make that world a reality.
You can hear samples of all the songs at CDbaby. It's also on Spotify and iTunes.
"Kid Pan Alley is where creativity starts. Without this amazing program, most kids will never know the joy of writing and singing their own song."
donate
click to listen