Teachers & Parents
Websites:
National Standards for Arts Education
http://artsedge.kennedy-center.org/educators/standards.aspx
Virginia Music Standards of Learning
http://www.doe.virginia.gov/testing/sol/standards_docs/fine_arts/index.shtml
Virginia English Standards of Learning
http://www.doe.virginia.gov/testing/sol/standards_docs/english/index.shtml
Guide to Basic Music Theory
http://www.essential-music-theory.com/
Creative Thinking Games/Exercises:
http://www.glencoe.com/sec/busadmin/entre/teacher/creative/
Publications:
The Politics of Character Education – Howard, Berkiwitz et al: EDUCATIONAL
POLICY, Vol. 18 No. 1, January and March 2004 188-215
http://dev.csufresno.edu/kremen-dev/bonnercenter/documents/Politics.pdf
Campbell, P. S. & Scott-Kassner, C.  (1995).  Music in childhood.  Belmont, CA: Wadsworth Group.
Comprehensive text on teaching music to children; includes
music for exceptional children and integrated curriculum.
Page, N.  (1995).  Music as a way of knowing.  York, ME:  Stenhouse Publishers.
Great resource on using music in the classroom, writing raps, and teaching songs.
Includes excellent bibliography.
Pattison, P.  (1995).  Writing better lyrics.  Cincinnati:  Writer's Digest Books.
A comprehensive look at lyric writing with lots of thoughts on rhyme.
Perricone, J.  (2000).  Melody in songwriting:  Tools and techniques for writing hit songs. 
Milwaukee, WI: Hal Leonard Publishing.  Good resource for learning to write melodies.
Ricigliano, D.  (1978).  Melody and harmony in contemporary songwriting. New York:
Donato Publishing Co. Good resource for writing music including music theory for songwriters.
Rico, G. L.  (1983).  Writing the natural way.  Los Angeles:  J.P. Tarcher, Inc. An in-depth look
at clustering to formulate ideas and connections.
Zollo, P.  (1993).  Beginning songwriter's answer book.  Cincinnati:  Writer's Digest Books.
Answers many questions about songwriting in general.
We just finished our last 2 summer camps in Virginia and Paul is away at the Virginia Center for the Creative Arts working on a 50-minute version of our musical, Bouncin' that we can tour to schools.  The full 90 minute version was performed in December at George Mason University.
August 14-17 • Lyons, CO • Rocky Mountain Songschool with Paul Reisler, Steve Seskin, Pat Pattison, Bonnie Hayes, Mary Gauthier and others. SOLD OUT
Kid Pan Alley on new Julie Andrews Netflix Series
Julie Andrews has a new Netflix series, Julie's Greenroom, and Kid Pan Alley is on Episode 6.  It's a series about the creative arts and children produced by the Jim Henson Company, the creators of Sesame Street.  Our episode features Sara Bareilles.  We were filmed at a summer camp we did last summer in Amherst, VA called Summer Stage.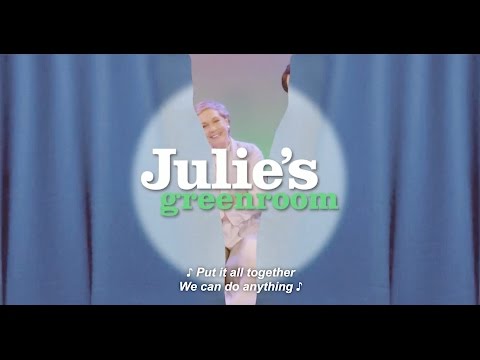 Bouncin'–the new Kid Pan Alley Musical
We have a new musical featuring mostly Kid Pan Alley songs. Paul Reisler, our founder and Artistic Director, wrote the additional songs and the script.  It's a moving story of friendship that dissolves and comes back together in crisis.  George Mason University presented a staged reading in December and we're currently working on booking it for full performances.  Here are some excerpts from the December performance
"Kid Pan Alley is the quintessential program for helping kids to experience their creative power, their voice, and their own self-expression. This is the kind of experience that changes lives."
donate
click to listen