Listen to Kid Pan Alley!
Songs From Our Albums
I Used to Know the Names of All the Stars – Jesse Winchester
Bouncing off the Bottom – Suzy Boggus
Songs about the Environment
Little Drop of Water – Beth Nielsen Chapman
That's What the Ancestors Whispered to Me
Love Songs
Whispering in Spanish – Raul Malo
We Could Make a Song About Love – Terri Allard
Funny Songs
Stinky Socks – Lari White
My Dog Did My Homework – Sparky's Flaw
You Think Stink Bugs Stink?
Holiday Songs
It Doesn't Cost Anything But Love
Christmas in Tennessee – Amy Grant
Across the Ages – Intergenerational Songs
Three Chords and the Truth
I Can't Remember What I Forgot – Tommy Sims
The Music of Art – Museum Partnerships
To Share the Beauty of Art
We Need No Excuse for Dreaming
Strike Up the Band – Orchestral Partnerships
I Do Love Virginia – Sissy Spacek
Scary Things – John Bindel
Anti-Bullying Songs
If You Can't Love Yourself – Nate Brown
I Don't Think So You're A Bully
Give Local Piedmont • It was an amazing day. Thanks to 119 donors, matching gifts, bonuses, and 2nd prize for most donors, we raised over $38,000 which will provide a week of Kid Pan Alley for over 1,500 children. Thank you. You have changed the world for these children.
Kid Pan Alley on new Julie Andrews Netflix Series
Julie Andrews has a new Netflix series, Julie's Greenroom, and Kid Pan Alley is on Episode 6.  It's a series about the creative arts and children produced by the Jim Henson Company, the creators of Sesame Street.  Our episode features Sara Bareilles.  We were filmed at a summer camp we did last summer in Amherst, VA called Summer Stage.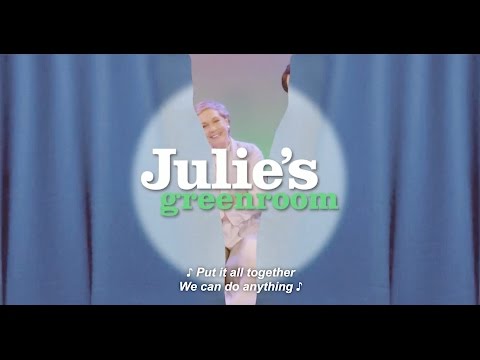 Bouncin'–the new Kid Pan Alley Musical
We have a new musical featuring mostly Kid Pan Alley songs. Paul Reisler, our founder and Artistic Director, wrote the additional songs and the script.  It's a moving story of friendship that dissolves and comes back together in crisis.  George Mason University presented a staged reading in December and we're currently working on booking it for full performances.  Here are some excerpts from the December performance
"Kid Pan Alley is the quintessential program for helping kids to experience their creative power, their voice, and their own self-expression. This is the kind of experience that changes lives."
donate
click to listen