Listen to Kid Pan Alley!
Songs From Our Albums
I Used to Know the Names of All the Stars – Jesse Winchester
Bouncing off the Bottom – Suzy Boggus
Songs about the Environment
Little Drop of Water – Beth Nielsen Chapman
That's What the Ancestors Whispered to Me
Love Songs
Whispering in Spanish – Raul Malo
We Could Make a Song About Love – Terri Allard
Funny Songs
Stinky Socks – Lari White
My Dog Did My Homework – Sparky's Flaw
You Think Stink Bugs Stink?
Holiday Songs
It Doesn't Cost Anything But Love
Christmas in Tennessee – Amy Grant
Across the Ages – Intergenerational Songs
Three Chords and the Truth
I Can't Remember What I Forgot – Tommy Sims
The Music of Art – Museum Partnerships
To Share the Beauty of Art
We Need No Excuse for Dreaming
Strike Up the Band – Orchestral Partnerships
I Do Love Virginia – Sissy Spacek
Scary Things – John Bindel
Anti-Bullying Songs
If You Can't Love Yourself – Nate Brown
I Don't Think So You're A Bully
Kid Pan Alley on new Julie Andrews Netflix Series
Julie Andrews has a new Netflix series, Julie's Greenroom, and Kid Pan Alley is on Episode 6.  It's a series about the creative arts and children produced by the Jim Henson Company, the creators of Sesame Street.  Our episode features Sara Bareilles.  We were filmed at a summer camp we did last summer in Amherst, VA called Summer Stage.  All the episodes will be released on March 17th.
Bouncin'–the new Kid Pan Alley Musical
We have a new musical featuring mostly Kid Pan Alley songs. Paul Reisler, our founder and Artistic Director, wrote the additional songs and the script.  It's a moving story of friendship that dissolves and comes back together in crisis.  George Mason University presented a staged reading in December and we're currently working on booking it for full performances.  Here are some excerpts from the December performance.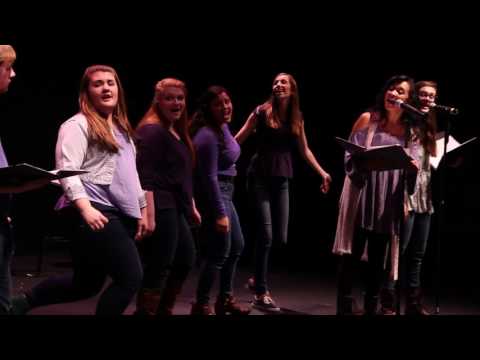 "There is nothing more helpful to a developing human than to learn how to express feelings in sound. Kid Pan Alley is a fabulous way of bringing young people into the loop of reflective behavior, of constructive action. Power to the organizers of this remarkable initiative."
donate
click to listen