Program Descriptions
Songwriter in Residence Workshops
Kid Pan Alley's songwriting residencies teach kids to how to harness and express their creativity through writing and performing original songs. In a typical week-long Kid Pan Alley workshop, two professional songwriters work with 200 children, usually in kindergarten to fifth grades, to write 8 original songs over four days. The songwriters will meet with four classes writing in two sessions of an hour on the first two days and then repeat this process with four different classes writing on the third and fourth days. The final day of the workshop is reserved for rehearsal, and of course, the concerts. Each workshop includes one just for the school in an afternoon assembly and a second, evening concert for the entire community. Brochure
Across the Ages – Intergenerational Residencies
Our intergenerational residency workshop follows the same basic platform as our standard songwriting workshop, but the program includes 15-30 older adults in the songwriting process.  Kid Pan Alley, and sometimes the school, working with a senior services partner, will bring senior citizens in to talk with students at a school that is hosting a Kid Pan Alley residency.  This story sharing inspires the songwriting process for both the children and the seniors and provides an unparalleled opportunity to bridge the age gap and teach history and culture with context. brochure
The Music of Art – Museum Partnerships
Using visual arts as inspiration for songs, the children begin their workshop week with a visit to a museum where they observe a collection of visual art. Then, the songs they've written are used as inspiration for paintings by the children. Art inspiring song– inspiring art. Brochure
Strike Up the Band – Orchestral Partnerships
Kid Pan Alley's orchestral partnerships bring symphony musicians into schools to arrange and record some of the songs written by the children. We then arrange a few of the songs for full orchestra and perform them together with other Kid Pan Alley orchestral arrangements. More info
Stand Up and be Heard Character Development Assemblies
Kid Pan Alley's one day interactive assembly program uses songs written by children in Kid Pan Alley residencies across the country that focus on respect and responsibility for each other, the community, the environment and oneself. The assemblies encourage children to explore who they are and what they want to see in their world.   The program includes an opportunity for four classes to each write a new verse to one of the songs, which they then perform on stage with the artist, during the one hour long assembly. The assembly is accompanied by a teacher activity guide that includes nine mini-lesson plans, as well as recordings of the songs, lyric and lead sheets to help faculty reinforce the program's message throughout the year. This is a highly participatory program and we encourage the whole audience to sing along. See our Brochure
 Write in this Book–Literacy Program
Kid Pan Alley and award-winning children's author Mary Amato work together to inspire and support children in the creative writing process through collaborative journal writing and songwriting. The children learn how to develop and write in character in the collaborative journal writing process inspired by Amato's book, "Write in this Book."  Then the journal writing becomes the inspiration for song. This residency will help children explore, practice and share as they grow into writers.
Wonder and Reflection–Songs inspired by nature, conservation, and the wilderness
In celebration of the 100th anniversary of the National Park Service, Kid Pan Alley is working with schools in gateway communities to the Shenandoah National Park, writing songs inspired by field trips to the  Park.  These projects are designed to bring children into contact with the natural world to experience its beauty, majesty, and importance to our natural and national history so that they may become the next generation of stewards of the environment. By responding to these experiences with a creative act, these encounters deepen and often become life-changing events.
Everyone has Something to Say–Songwriting programs for special needs children
We believe everyone has something to say–a story to tell.  But, sometimes they don't have a way to tell it.  Kid Pan Alley has been working with kids profoundly impacted by autism.  Many of them can't speak.  Working with pictures, communication devices and deep listening, we try to capture their hopes and dreams in an authentic way in song.  Each child has a peer partner from a local schools.  We work with those children to develop ways of listening and empathy.  It's challenging and also some of the most rewarding work we've done.  It is amazing to see them on stage participating in a song that they wrote and to see the tears of joy in the eyes of their parents.
BRING KID PAN ALLEY TO YOUR COMMUNITY
Because each KPA project is tailored to the community, we need you! We need your enthusiasm, support, ideas, and fundraising efforts.  Kid Pan Alley projects happen because people like you step up and get involved. PTAs, symphonies, generous individuals, art museums, teachers, and supporters of the arts of all
kinds are helping to bring Kid Pan Alley home to their communities.
We can help you design a project that is right for you and partner with you to make it happen.
Please contact us to find out more.
Give Local Piedmont • It was an amazing day. Thanks to 119 donors, matching gifts, bonuses, and 2nd prize for most donors, we raised over $38,000 which will provide a week of Kid Pan Alley for over 1,500 children. Thank you. You have changed the world for these children.
Kid Pan Alley on new Julie Andrews Netflix Series
Julie Andrews has a new Netflix series, Julie's Greenroom, and Kid Pan Alley is on Episode 6.  It's a series about the creative arts and children produced by the Jim Henson Company, the creators of Sesame Street.  Our episode features Sara Bareilles.  We were filmed at a summer camp we did last summer in Amherst, VA called Summer Stage.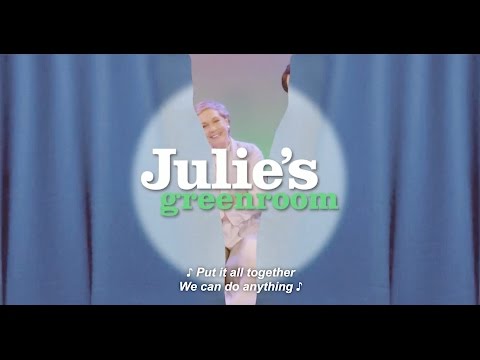 Bouncin'–the new Kid Pan Alley Musical
We have a new musical featuring mostly Kid Pan Alley songs. Paul Reisler, our founder and Artistic Director, wrote the additional songs and the script.  It's a moving story of friendship that dissolves and comes back together in crisis.  George Mason University presented a staged reading in December and we're currently working on booking it for full performances.  Here are some excerpts from the December performance
"There is nothing more helpful to a developing human than to learn how to express feelings in sound. Kid Pan Alley is a fabulous way of bringing young people into the loop of reflective behavior, of constructive action. Power to the organizers of this remarkable initiative."
donate
click to listen