Paul Reisler, Founder & Artistic Director
Paul Reisler – Founder and Artistic Director
PAUL REISLER is the founder and artistic director of the Kid Pan Alley™ Children's Songwriting Project. Kid Pan Alley has inspired 35,000 children across the US to write and perform over 2,500 original songs. Some of those songs are recorded on three commercial CDs featuring artists including Sissy Spacek, Delbert McClinton, Kix Brooks, Cracker, Amy Grant, The Nashville Chamber Orchestra and many others. The albums have won numerous awards including a WAMMIE, Parents' Choice Gold and Silver Honors, and NAPPA Gold Award, as well as a Grammy nomination.
Paul started writing songs when he was five years old. Since 1975, Paul Reisler has toured throughout North America and Asia with Trapezoid, Ki Theatre,  Paul Reisler and a Thousand Questions, and as a solo performer, appearing in more than 3,500 concerts. He has been involved in over 35 recording projects in various roles as a musician, engineer, producer and composer with artists such as Beth Nielsen Chapman, John McCutcheon, Holly Near and many others. He toured for years with his late wife, Julie Portman, the Obie-award winning actress, playwright, and director.
His new band, Paul Reisler and a Thousand Questions, features Howard Levy of the Flecktones, Joe Craven, Amy Speace and Heather Mae. Their album, At Night the Roses Tango is an album of Paul's original songs and instrumentals that features the vocals of Angela Kaset and Ysaye Barnwell of Sweet Honey in the Rock. Paul also writes for theatre, film and TV. His Fables: Five Aesop's Fables for Orchestra and Narrator, a 30-minute piece composed by Paul and Art Wheeler  with a libretto co-written with Tom Paxton premiered in January, 2010 with performances at Charlottesville's Martin Luther King Performing Arts Center and at Lorin Maazel's Castleton Theatre.
Paul is one of the most popular songwriting teachers in the country and has taught workshops and songwriting schools throughout the country including Rocky Mountain Song School, Southern Utah Song School, NewSong Academy, Swannanoa Gathering, Augusta Workshop, Hollyhock, Kerrville, Moulin a Nef in Southern France, Puget Sound Guitar Workshop, Common Ground, the CATS program at the Castleton Festival, NSAI Songcamps, Songcamp in the Mountains and many others. He is the host of the 6-Day Intensive Songcamp in Charlottesville, VA.
So you're probably wondering how Paul let Kid Pan Alley take over his life. Well, here's his story:
"To be honest, I had no intention of starting Kid Pan Alley. It just grew out of a three-week songwriting residency in my local community. The songs I wrote with the kids were so amazing that I knew I had stumbled on to an incredible discovery—kids make the greatest co-writers. The rest was figuring out how to get these songs and the process out into the world so kids everywhere could discover themselves as creators.
But now, I do know why I went down this path. It had to do with my own creativity and with being discouraged from doing music throughout my childhood and college years. I remember writing songs as a five year old. Whenever I'd sing them, my mother told me to be quiet. So I stopped. You see, we were a totally non-musical household. I still loved music and when I was old enough, I saved the money from my paper route and bought my first instrument, a longneck 5-string banjo. As much as I loved Pete Seeger at the time, the sound didn't do it for me so I traded it in for a guitar.
I was a slow learner–it didn't come naturally. But when I was ready for college my love of music got the best of me and I majored in music theory and composition. Not much encouragement there. I was kicked out of sight singing class for messing everyone else up. My composition teacher asked why I was studying music and said I'd never amount to anything. I was wasting his time and mine I continued anyway just to irritate him. I did develop a career in music as the leader of the band Trapezoid. I performed in several thousand concerts and made dozens of recordings that I took great pleasure in sending to my old composition teacher.
So that's why I'm spending this part of my life working with the kids. I can see what it means to them. How different it is when children are encouraged and can see themselves as creators, not consumers. I see what it's like for the kids, having their first song recorded by an Amy Grant, Sissy Spacek, Delbert McClinton or Kix Brooks. And then there's the Grammy nomination and the Parents' Choice Gold award. It's hard for me to imagine what my life would have been like and how much more I could have accomplished if I'd had the confidence in my abilities from the beginning. But it's not hard to imagine what these kids are going to be able to create now that they are off to such a powerful start. And that makes it all worthwhile for me." www.paulreisler.com
Hear Paul's song If I Were Free about living the musical life as recorded by A Thousand Questions.
"Reisler's talents are many and his creativity, vast. Not to many people can do what he can do, bring the spirit of music and creating to new generations, opening up one of the most important doors there is.  He is a national treasure."  Robert Fritz, composer and author of Creating and The Path of Least Resistance
"the songs climb up the Blue Ridge and down to the bayou and back up the Himalaya's."                             Washington Post
We just finished our last 2 summer camps in Virginia and Paul is away at the Virginia Center for the Creative Arts working on a 50-minute version of our musical, Bouncin' that we can tour to schools.  The full 90 minute version was performed in December at George Mason University.
August 14-17 • Lyons, CO • Rocky Mountain Songschool with Paul Reisler, Steve Seskin, Pat Pattison, Bonnie Hayes, Mary Gauthier and others. SOLD OUT
Kid Pan Alley on new Julie Andrews Netflix Series
Julie Andrews has a new Netflix series, Julie's Greenroom, and Kid Pan Alley is on Episode 6.  It's a series about the creative arts and children produced by the Jim Henson Company, the creators of Sesame Street.  Our episode features Sara Bareilles.  We were filmed at a summer camp we did last summer in Amherst, VA called Summer Stage.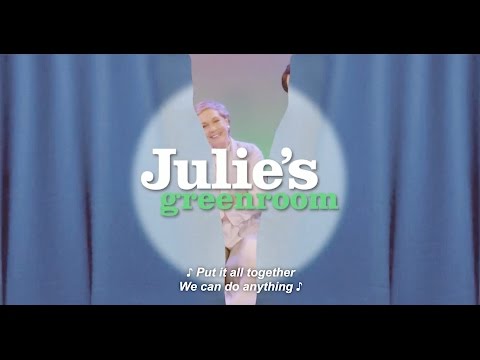 Bouncin'–the new Kid Pan Alley Musical
We have a new musical featuring mostly Kid Pan Alley songs. Paul Reisler, our founder and Artistic Director, wrote the additional songs and the script.  It's a moving story of friendship that dissolves and comes back together in crisis.  George Mason University presented a staged reading in December and we're currently working on booking it for full performances.  Here are some excerpts from the December performance
"There is nothing more helpful to a developing human than to learn how to express feelings in sound. Kid Pan Alley is a fabulous way of bringing young people into the loop of reflective behavior, of constructive action. Power to the organizers of this remarkable initiative."
donate
click to listen