Bring Kid Pan Alley to Your Community
Each Kid Pan Alley program is carefully tailored to the community. Projects can range from short-term residencies and concerts to full Album projects. While we have worked with everyone from 3 year-olds to adults with great success, we prefer working with 2nd – 5th grade children. Please give us a call, or e-mail, to discuss how we might bring a Kid Pan Alley project to your community!
540.322.2022
We just finished our last 2 summer camps in Virginia and Paul is away at the Virginia Center for the Creative Arts working on a 50-minute version of our musical, Bouncin' that we can tour to schools.  The full 90 minute version was performed in December at George Mason University.
August 14-17 • Lyons, CO • Rocky Mountain Songschool with Paul Reisler, Steve Seskin, Pat Pattison, Bonnie Hayes, Mary Gauthier and others. SOLD OUT
Kid Pan Alley on new Julie Andrews Netflix Series
Julie Andrews has a new Netflix series, Julie's Greenroom, and Kid Pan Alley is on Episode 6.  It's a series about the creative arts and children produced by the Jim Henson Company, the creators of Sesame Street.  Our episode features Sara Bareilles.  We were filmed at a summer camp we did last summer in Amherst, VA called Summer Stage.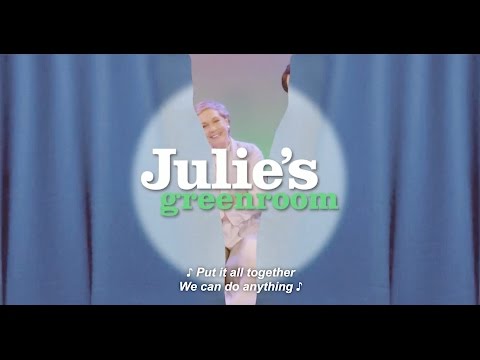 Bouncin'–the new Kid Pan Alley Musical
We have a new musical featuring mostly Kid Pan Alley songs. Paul Reisler, our founder and Artistic Director, wrote the additional songs and the script.  It's a moving story of friendship that dissolves and comes back together in crisis.  George Mason University presented a staged reading in December and we're currently working on booking it for full performances.  Here are some excerpts from the December performance
"Kid Pan Alley is the quintessential program for helping kids to experience their creative power, their voice, and their own self-expression. This is the kind of experience that changes lives."
donate
click to listen